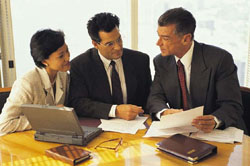 The financial planning process begins with an in-depth evaluation of your current financial situation. Once we've established your overall objectives, we'll focus on your specific goals.
With changing economic conditions and market swings, we advocate investing sensibly over the long run and maintaining an adequate level of insurance coverage. We work with you side by side so that you're confident in and comfortable with the financial suggestions we make.
Our Services Include:
Wealth Protection
Survivorship Protection

We can help develop a strategy using life insurance to provide the income your family will need to maintain their way of life.

Asset Protection

We know ways to protect your retirement savings and your independent lifestyle should you or your spouse need nursing assistance.

Disability Income Insurance

Often overlooked is the need to protect one's current income stream and future earnings in the event of a disability.

Long Term Care

We can help protect your assets from the rising costs of long term care that can affect your financial future and that of your loved ones.
Wealth Accumulation
Portfolio Building

Through asset allocation, we can help develop an investment strategy that balances risk and return potential by diversifying your asset across different investment categories. We take into account your risk tolerance, liquidity needs, as well as your short and long-term goals.*

College Funding

We can help you choose the most suitable savings and investment vehicles, as well as appropriate plans available for funding an education.

Retirement Planning Strategies

If you are planning for a secure retirement, we can help you elevate your existing retirement plans: pensions, 401(k)'s, RIA's and annuities. We can also assess the tax consequences of your IRA Rollover and assist in implementing your decision based on guidance from your tax/legal advisers.**
Business Solutions
Retirement Planning Strategies

Qualified plans can help owners and employees build financial independence. Some examples are 401(k), pension, profit sharing, SIMPLE, and Defined Benefit plans.

Executive Compensation Strategies

We design supplemental pension, deferred compensation, executive bonus, and other retirement and incentive compensation programs. These programs can help motivate key people with financial incentives designed to enhance employee retention.

Employee Benefits

We can help you create the employee benefit package that's right for your business, including disability income insurance, long term care insurance, employee voluntary plans and cafeteria plans.

Educational Services

We can conduct seminars for your employees on their retirement packages. As a value-added service, we offer educational seminars on a variety of financial topics.

Key Person Insurance

The death or disability of a key employee can create serious problems for a business. We can help you protect against this loss.

Business Succession Strategies

A succession plan should be tailored to your wealth transfer objectives. We can provide life insurance and disability income insurance funding for a Buy-Sell Arrangement to provide for the orderly disposition of a closely held business if an owner dies, becomes disabled or sells.
For family business owners, we identify alternative strategies to help equalize estate assets among all children--whether they're active or inactive in the family business.
* Diversification /Asset Allocation does not ensure a profit or guarantee against loss
** Neither Massachusetts Mutual Life Insurance Company (MassMutual), MML Investors Services, LLC nor any of their employees or agents are authorized to give legal or tax advice. Consult your own personal attorney legal or tax counsel for advice on specific legal and tax matters.